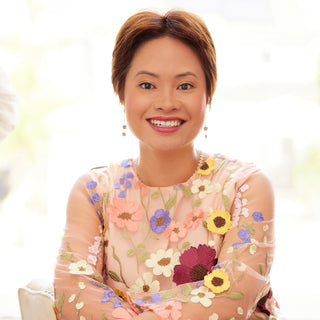 Helen Plehn is a modern mystic, author, artist, and spiritual teacher. She founded Helen Creates Beauty to share joy, beauty, and wisdom embodying her Artist Soul Gift Archetype based on the Aura Color Wheel through painting and spiritual teaching.
Her artwork has exhibited in the Laguna Art Gallery, Orange County Fine Arts Showcase Gallery, and Huntington Beach Art Center. She is an acrylic painting teacher at the Sherman Library and Gardens in Newport Beach and an acrylic painting and meditation teacher at Huntington Beach Art Center.
Her art and spiritual work has been featured in LA Weekly, San Diego Voyager, ShoutOut SoCal Magazine, and Canvas Rebel Magazine.
Helen was born in Guangzhou, China, raised in Hong Kong, and now calls Huntington Beach, California home. She has an undergraduate degree in psychology and social work from Nanjing University in China, a master's degree in interior architecture and design from the Academy of Art University in San Francisco, and has published three academic peer-review articles and four conference proceedings during her Ph.D. studies in tourism and hospitality management at Temple University in Philadelphia. At the time her research area was human sensory experience design.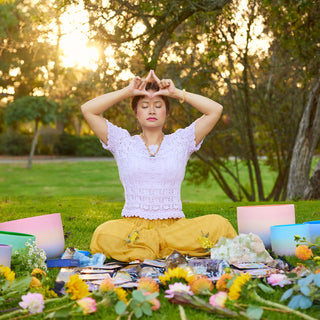 Helen's early spiritual mentor is Shiva Das and Ed Zadlo from Yoga on Main in Philadelphia. Shiva Das is students of Swami Satchidananda of the Integral Yoga Tradition, and Sri T. Krisnamacharya and his son T.K.V. Desikachar of the the Vinyi Yoga Tradition, and Eric Shiffman. His primary Guru is the Great India Saint, Mata Amritanadamayi Devi, "Amma". Ed studied Aryuveda directly from Dr. David Frawley, director of The American Institute of Vedic Studies.
Then she continues her soul disocvery and growth journey and have studied at the Kerala Ayurveda Academy, the Love and Light Shcool of Crystal Therapy with Ashley Leavy, Deepak Chopra's Meditation Certification, Hayhouse author Rebecca Campbell's Discover Your Cosmic Blueprint and Work You Light courses, James Van Praag's Mediumship training, Kyle Gray's Raise Your Vibration membership, Charles Virtue and Peroshini Naidoo's Angel Certification Program and Angelic Anminal Communication Program, Morwenna Bugano's Angel Channeling course, and Vianna Stibal's Theata Healing program.
She is an avid student of spiritual wisdom and the soul. She has extensive knowlege about Western and Vedic Astrology, Enneagram, Numerology, Fengshui Birth Element and Kua Number, Human Design, and Gene Keys.
Helen has been on a spiritual quest for joy and purpose for more than a decade and had several initiatory awakening experiences since 2012. From early anxiety and depression to now that she has found and is living her soul's purpose with joy, she wants to help others do the same.
She has remembered many of her past life experiences during her past life regression meditation practices. She had many past lives in the United Kingdoms. She was once an artist, author, a warrior, a scholar, a nun and a gypsy in southern Spain. She has also recalled her lifetimes in the Crab Nebula near the Pleiades in the Taurus constellation, and the lost land of Lemuria.
She has channeled the Aura Color Wheel system with her spirit team: The Dragon's Eye to help others find and live their souls' purposes.
A spirit guide came through her channeled vision to help her write a book on Soul Evolution. His name was Herbert Spencer, a 19th century English philosopher who developed Social Darwinism, applying Charles Darwin's evolutionary theory to the study of society. Followed it was a vivid astral travel experience to the Hathor Temple at Dendera, Egypt, with ascented masters Isis, and Mary Magdalene's help. The Temple ceiling showed the Dendera Zodiac, consists of 36 "decans" or spirits symbolizing the 360 days of the Egyptian year. The 36 decans correspond the 36 Soul Aura Color profiles in the Aura Color Wheel system.
Based on the system, Helen created the Flowing with Your Rainbow Course to work on all aura layer so that you can embody the rainbow light body to co-create your dream life with the Universe. Hundreds of students who have taken the course are now living their purposes with joy and fulfillment.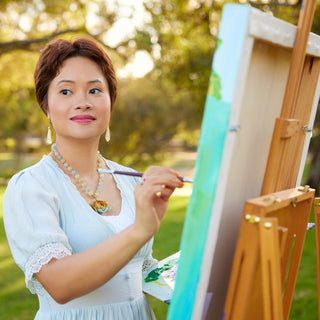 Helen is a creative conduit. She believes artists are the channelers of the divine and that we are one and all connected. She creates her work through channeling. She is highly clairvoyant and paints through her third-eye vision. Colors are expressions of energy. Her expertise is synchronizing color, crystal, and symbol (sacred geometry/mandala) energies to manifest a piece.

She has created numerous crystal grid paintings to help her clients manifest their intentions and bring high-vibrational Fengshui energy to their homes.

Prior to becoming a professional painter and spiritual teacher, she ran her Fengshui interior design business, See Beauty Design LLC, where she designed Fengshui homes for her clients with custom surface patterns to complement their energies. As a third-generation Fengshui master, she can sense the energy of space before she senses the energies of people.

Her work is about joy, beauty, and wisdom: the most authentic expression of her soul. You can feel it through vibrant and saturated colors, joyful objects of life, and expressive, energetic brushstrokes. If you want to find a piece of art with deep cosmic meaning and healing energy, you are in the right place.